Zero Waste MVMT
Regular price
Sale price
$15.00 USD
Unit price
per
Sale
Sold out
"I have tried many shampoo and conditioner bars. This is my absolute favourite so far! Makes my hair clean and soft. I would even say it's better than my salon shampoo I used to buy!" - Dakota


It's time to ditch plastic shampoo bottles...
Our concentrated shampoo bars provide a rich lather that is moisturizing and nourishing for your hair and scalp. 
Free from SLS, parabens, phthalates and other nasties! Made with all-natural ingredients that are mother earth approved!
Just 1 bar can replace up to 3-250ml bottles of shampoo or conditioner and last for 50-75+ washes (depending on hair type and length).
// Doesn't include Cedar Soap Tray * Add it to your cart here!

// Bundle with the Conditioner Bar and save!
Travel: If you choose the option with the container, you can use this to store the bars when you're travelling or going away for the weekend! Make sure to let bars dry completely before storing!
Size: Shampoo - approx. 2.5" x .75" and 2 oz.
Ingredients

Shampoo Ingredients: Sodium Coco Sulfate, Coco nucifera (Coconut) Oil, Theobroma cacao (Cocoa) Butter, D-Panthenol, Mentha piperita (Peppermint) Oil, (Eucalyptus) globulus leaf Oil, green oxide.

Conditioner Ingredients: Cetyl alcohol, Behentrimonium methosulfate (from rapeseed oil), Stearyl alcohol, Theobroma cacao (Cocoa) Butter, Coco nucifera (Coconut) Oil, Glycerin, Extra virgin Olea Europaea (Olive) Oil, Triticum Vulgare (Wheat) germ oil, Jojoba Oil, Mentha piperita (Peppermint) Oil, (Eucalyptus) globulus leaf Oil, green oxide.
How to use

Simply wet and run the bar through your hair or lather in your hand and apply to hair. Rinse when done.
End Of Life

Bars - Use the bar until nothing remains!

Travel Containers - Use to store your bars while traveling or going away for the weekend! Recycle or compost at the end of its life.
Shipping

Free shipping on orders over CA$70 or US$55. Orders are shipped from our warehouse in Winnipeg, MB. Standard delivery is 2-7 days. Read more on our Shipping Page!
In stock
Share
View full details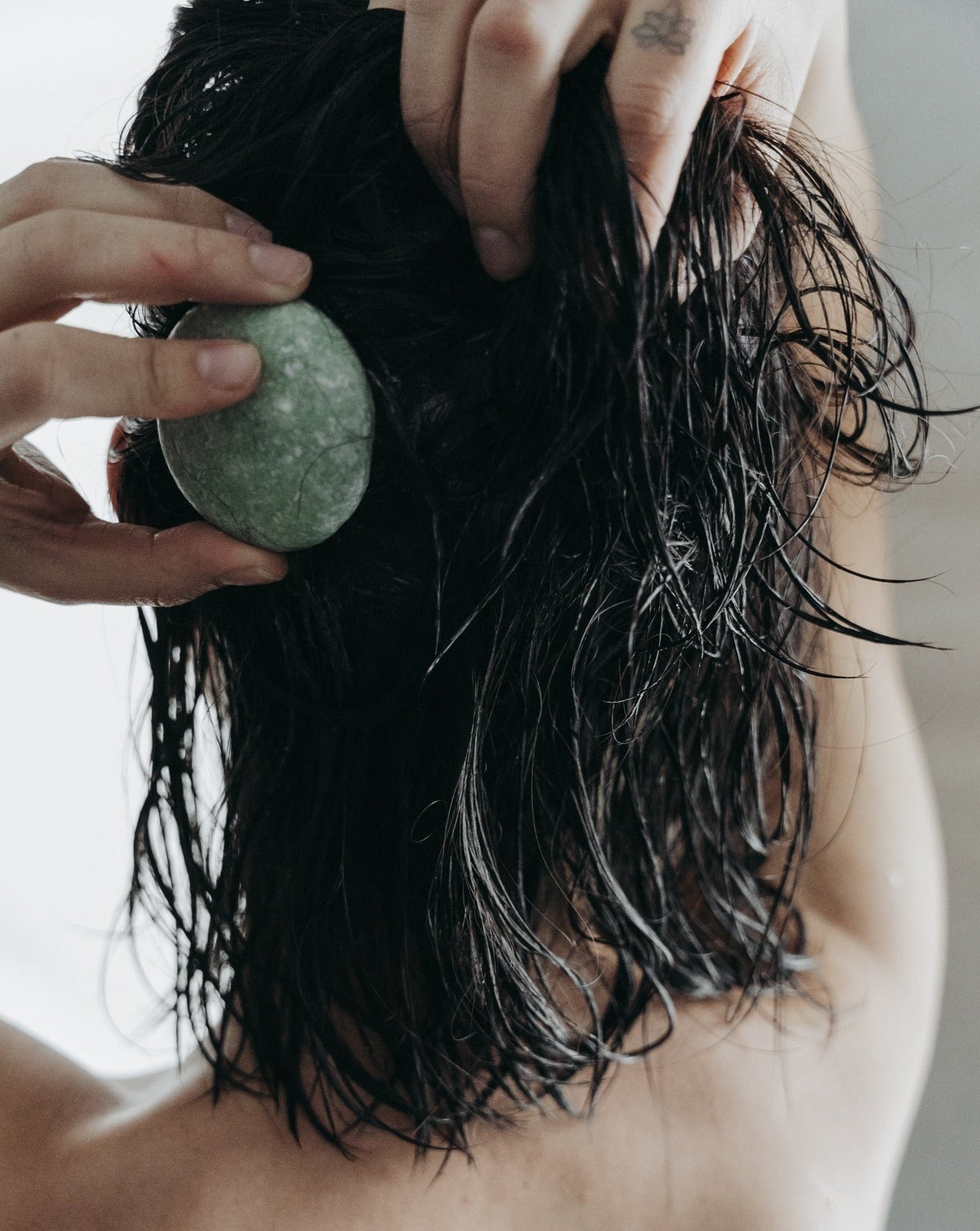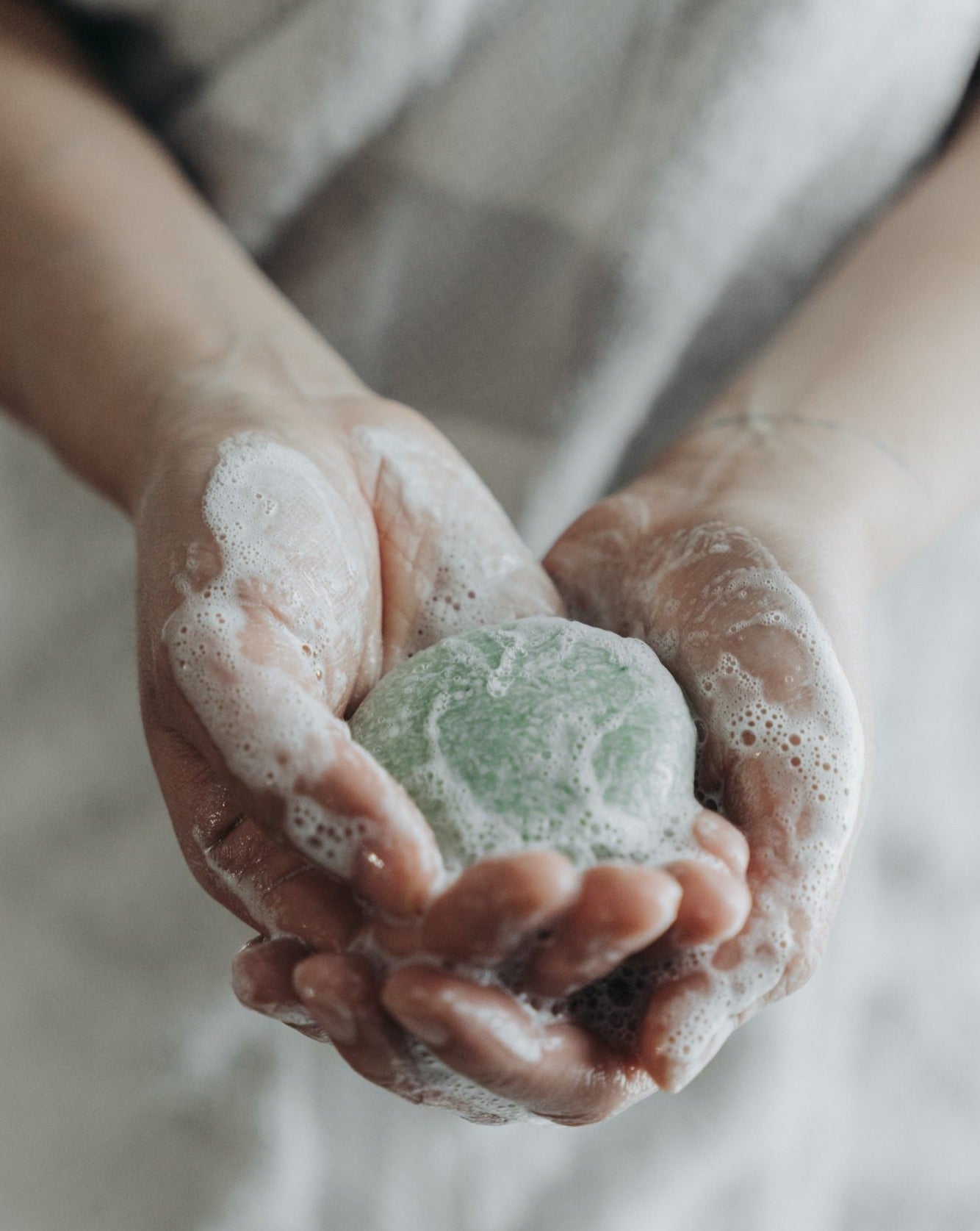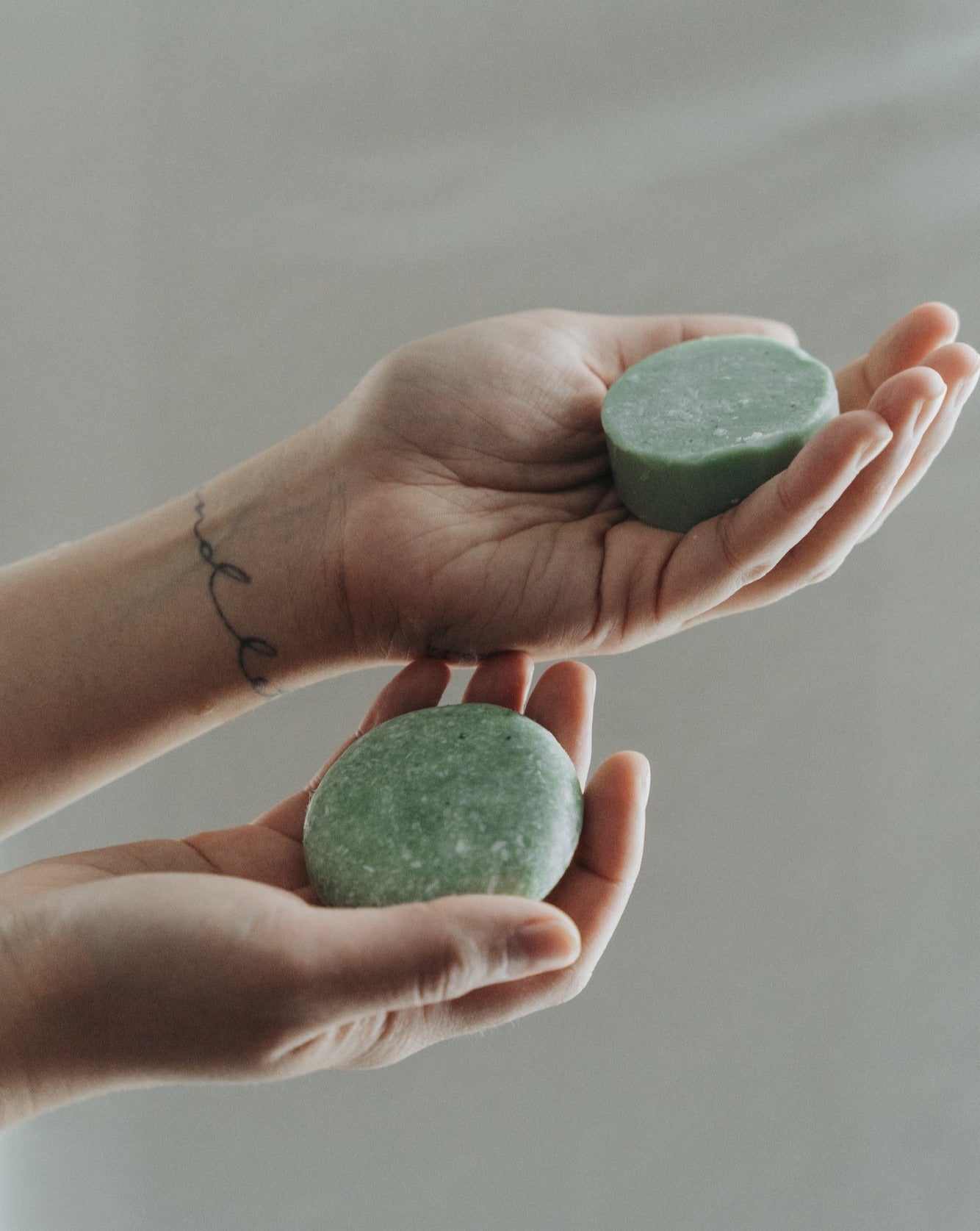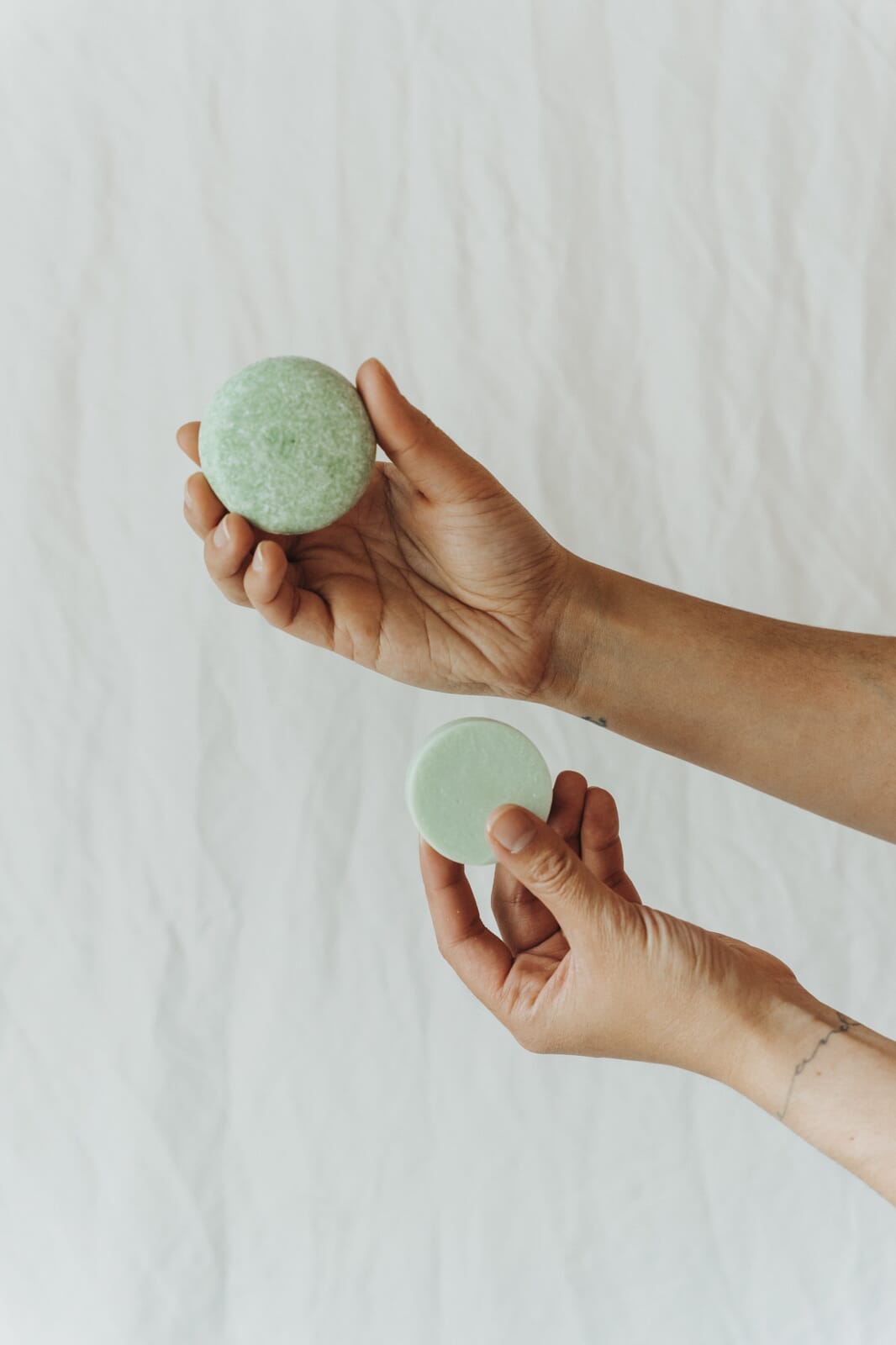 Compact & Mighty
Our shampoo bars are concentrated and space-saving, replacing up to 3 bottles of liquid shampoo.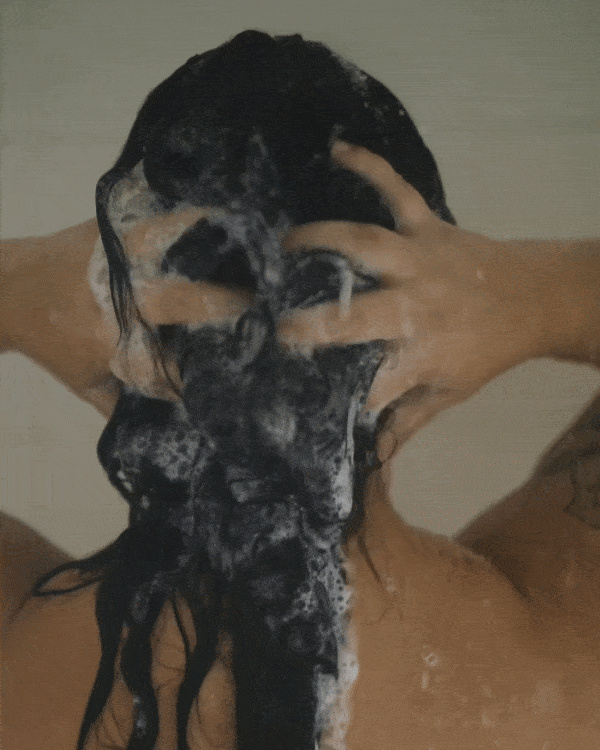 ★★★★★
"Smells amazing, luxurious lather, and rinses clean easily. Plus no plastic bottles. I love this product!"
- S. Pearson
VERIFIED BUYER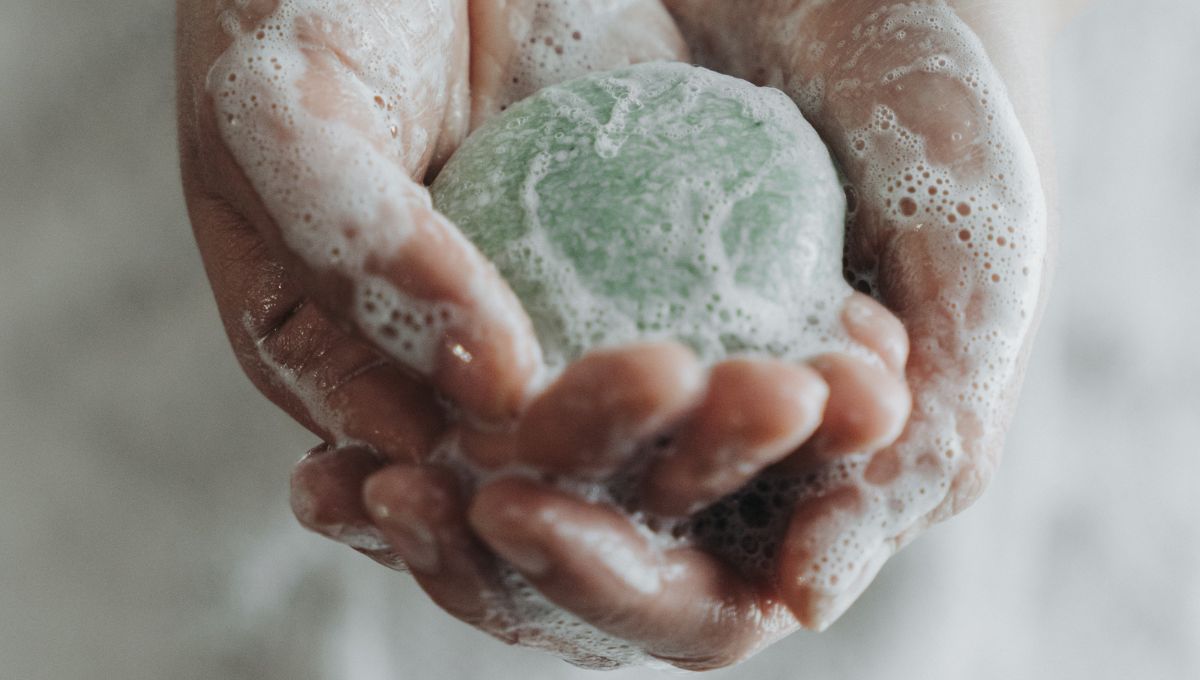 Shampoo, Not Soap
Our shampoo bars are pH balanced and are formulated to clean, nourish and moisturize your hair. Leaving you with silky smooth hair that feels light and healthy.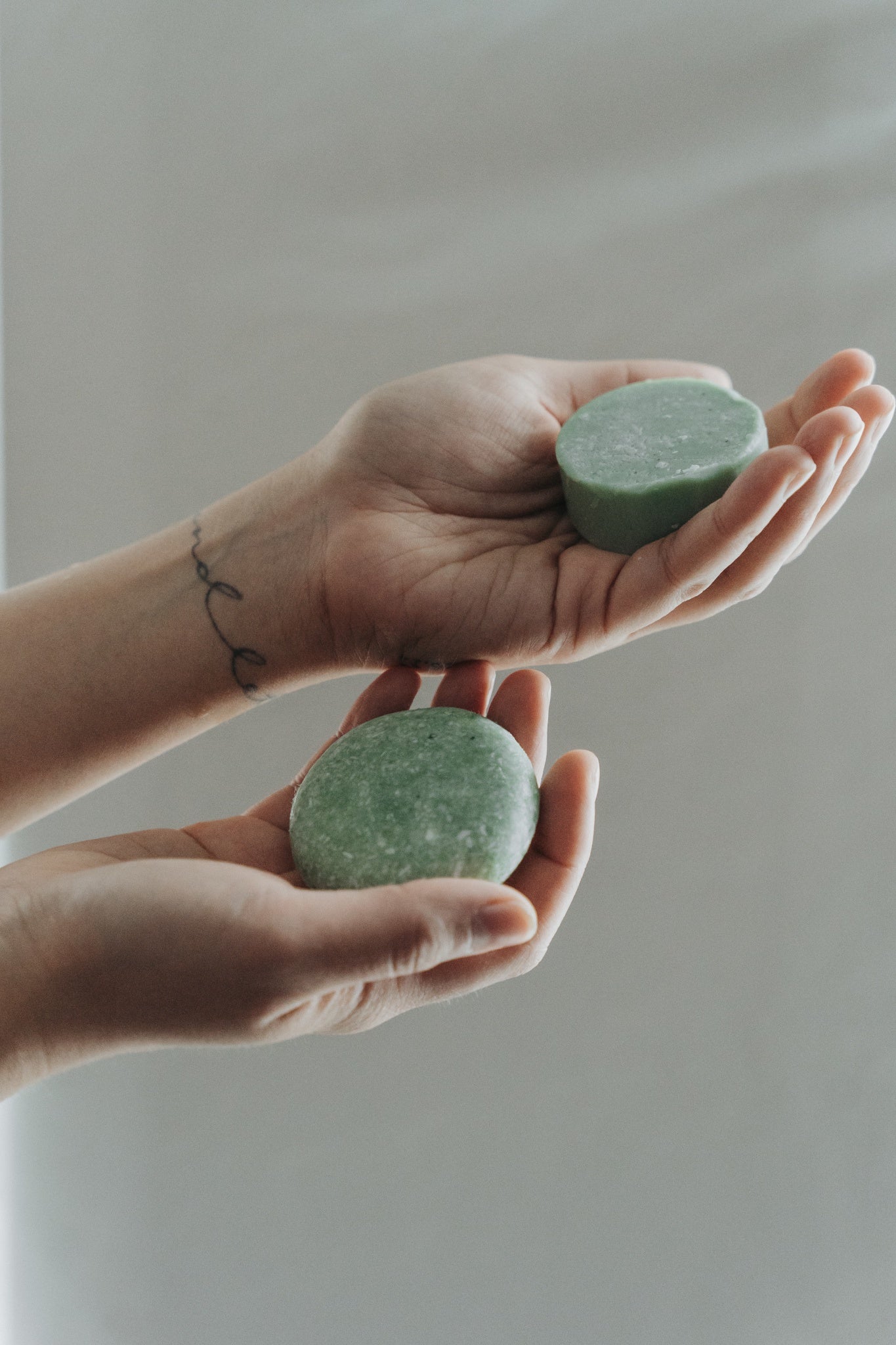 Good For You, Good For The Planet
Only made from the highest quality natural ingredients which are free from SLS, parabens, phthalates, and other nasties!
Take care of your hair, and Mama Earth.
FAQ
How is a shampoo bar different from liquid shampoo?

A shampoo bar is a solid form of shampoo, eliminating the need for plastic bottles and reducing waste. While both forms aim to cleanse the hair, shampoo bars are more concentrated, meaning you use less product per wash. On the ingredient front, our shampoo bars lean towards natural and minimalistic formulations, offering a cleaner approach to hair care.
Is the shampoo bar eco-friendly?

Yes, our shampoo bar is eco-friendly. It is designed to reduce plastic waste, requires less water in its production, and has minimal, plastic-free packaging. By choosing a shampoo bar, you're making a sustainable choice for the environment.
Does the shampoo bar contain any SLS, parabens, or artificial fragrances?

No, our shampoo bar is free from SLS, parabens, and artificial fragrances. We prioritize natural and safe ingredients to ensure the health of your hair and the environment.
How do I use a shampoo bar?

Using a shampoo bar is easy! Wet your hair and the shampoo bar. Rub the bar directly onto your hair or between your hands to create a lather. Massage into your scalp and hair as you would with liquid shampoo. Rinse thoroughly and follow with a conditioner if desired.
How long does one shampoo bar last compared to a bottle of liquid shampoo?

One shampoo bar can last as long as two to three bottles of liquid shampoo, depending on the length and thickness of your hair and how often you wash it. It's a cost-effective and sustainable alternative to traditional shampoos.
Can I travel with the shampoo bar in my carry-on luggage?

Absolutely! One of the advantages of a shampoo bar is its travel-friendliness. Since it's solid, you won't have to worry about liquid restrictions at airports. Just store it in a container or the original packaging, and you're good to go. It's compact, lightweight, and perfect for on-the-go cleansing.
Best shampoo bar out there!
Love this shampoo bar more than any other we have tried! It lather's so well in our hands that we don't need much for it to work throughout my long (just past shoulder length) hair. Don't even need to rub the bar on my hair. It also lasts a very long time for our family of four. Also LOVE that there is no plastic waste with all of the products! My daughter, who is very environment aware, is so happy we have stopped buying plastic bottles.
Exceeds all expectatiions
I have used bar shampoo before, and found it mainly useful on camping trips etc. --okay but not great. I decided to try this shampoo to cut down on plastic use at home and after reading many positive reviews. It exceeded all expectations. I have long hair and wash it every five days. I am on day three today, and it still looks like it has just been washed. People have commented on the shine, and I am very happy with the results. It lathers very well and is gentle on the scalp. The conditioner felt very different the first time I used it -- not waxy, light and almost not there, but my hair combed out well and I was happy. Since then I have perfected my technique for using it, and it works well, leaving my hair smooth and manageable.
I am a huge fan of the bar shampoo and conditioner. It's much better than what I was using before and it feels much less wasteful. I really like all the paper packaging for the products too, it feels very eco-friendly while also feeling tough and luxurious. The bundle was perfect for me because as I am switching to bar soaps, I needed a big soap rack which this provided.
Delightful in every way!
With longer aging hair, I wasn't sure what to expect when using a bar for soaping and conditioning but these bars are beautiful! The lather is luxurious, the scent is pleasantly light, hair rinses super clean, conditioner applies easily and hair is left soft and shiny.
Love both completely. Please never change it!
Love it!
This is a great product! I love the shampoo and the soap are amazing.
Thank you!!